Mobile money marks significant step forward in Sierra Leone Ebola response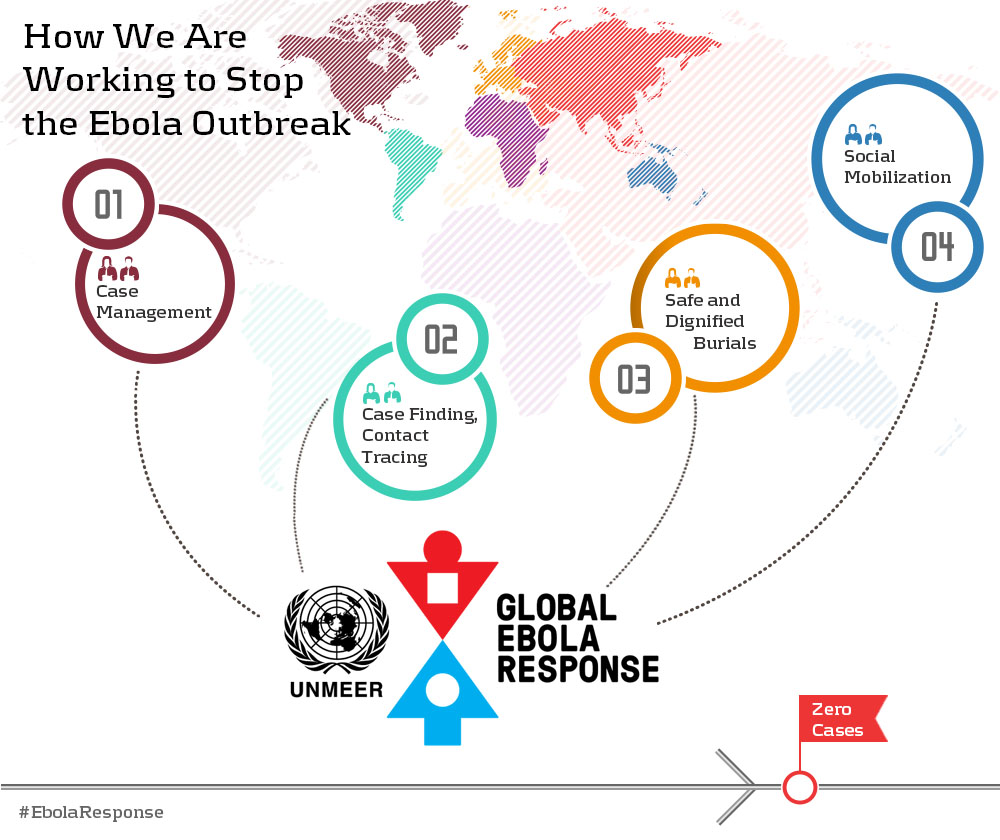 For the first time in Sierra Leone, hazard payments to Ebola Response Workers (ERWs) will be made using mobile money. Sudipto Mukerjee, Country Director for the United Nations Development Programme (UNDP) in Sierra Leone, calls the development "significant."
"One of the most difficult things about tackling the Ebola crisis is in the area of human resources," says Mukerjee. "You can construct a treatment centre in a couple of months. You can construct a community care centre in two to three weeks. But getting trained people to come and run them has been a major challenge."
Working under the umbrella of the United Nations Mission for Ebola Emergency Response (UNMEER), and in strong partnership with the Sierra Leonean National Ebola Response Centre (NERC) and private sector partners such as Airtel, Africell, and Splash Money, UNDP has provided technical assistance and brokered a harmonized mobile payment platform whose importance goes beyond technological improvements.
"Ebola is known as a caregiver's disease. If you are a clinician in the red zone, you are possibly at much greater risk than the average person. Unless there is a certain element of incentives, or danger pay, it's very difficult to attract and retain people."
Cash transfers to ERWs present several challenges, according to Mukerjee, including the range of positions new to the country, such as burial teams and contact tracers.
"In normal situations, you don't need people for safe burials; you don't need contact tracers," he says. "These people are not on the government's standard payroll."
Another challenge was in the frequency of payments.
"These people are working on the front lines. They could be alive today and dead tomorrow. If they're not paid on time, if they're not paid the right amount of money, they get frustrated and they tend to protest, which means that whatever Ebola care is being provided will no longer be available. We cannot afford a strike. We have to keep the whole system going."
That is where mobile money makes its mark. As Mukerjee points out, the transition from direct cash to an electronic solution will help to improve overall efficiency, timeliness and security of payments for ERWs.  
 "In general, citizens have lost confidence in the state system, so they don't trust to be able to say, 'Ok, it's no problem if I don't get paid today. I will get paid tomorrow.'" He says. "We cannot afford to lose a single minute where people have put their tools down and refuse to work. That is why reliable and predictable mobile payments are so significant."
Chris Dooley, UNDP Regional Technical Advisor to the project, also notes, "Electronic payments, including well-designed mobile money or bank products can increase individuals' financial inclusion, reduce poverty and strengthen their resilience through savings and insurance."
The biggest challenge now for the mobile payments to work, according to Mukerjee, lies in communications.
"We're trying a combination of newspapers, press releases, radio broadcasts, and SMS's sent well in advance so people will get messages telling them when their payments will start, and a notification on the actual date that a payment has been transferred," he says. "We need to make sure people know what to do to get their payments, and what to do if they don't get their payments. We're learning as we go along."
Payments are staggered in order to avoid any cash liquidity problems on the part of mobile money operators, where payees desire to withdraw their pay as cash. The current cycle of hazard payments are being made from 15 to 19 December 2014, and of the approximately 16,000 ERWs who are being paid by NERC, 13,000 are targeted to receive their pay through mobile money.
Developments in the other two most affected countries are also helping ease the cash transfer tension to ERWs. In Liberia, a customer hotline has been established and a target has been established to make all back payments by the end of the year. In Guinea, UNDP and its partners are harmonizing payment scales across paying organizations and improving the quality of payroll lists.